Food Storage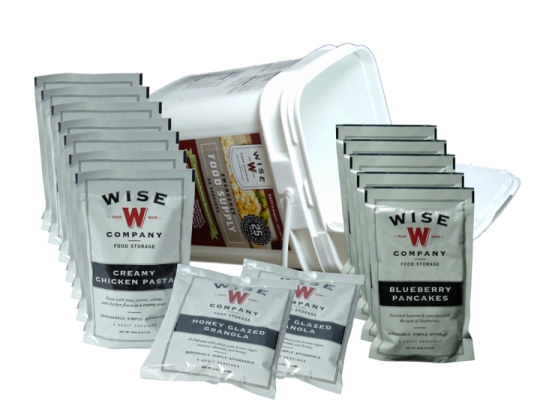 Serving Grab n' Go Bucket
DO TO HIGH DEMAND FOOD ORDERS ARE SUSPENDED **

(Free Shipping continental USA)
** "At this time, we cannot guarantee any exact shipment times based on the uncertainty of the potential for unforeseen supply chain constraints. We do however have a secure level of confidence that we will be able to continue receiving supply shipments of most of our products in order to keep a substantial volume of kits shipping out. Currently, our ESTIMATED ship times are listed below. We are currently meeting or beating these times and will continue to do all possible to keep doing so.

Survival kit orders are estimated to ship in approximately 3-4 weeks and larger bulk orders in 4-6 weeks. Wise is no longer accepting orders of long term food. We will update our offering of these products in April. Please keep close attention to the Alerts and Reminders for more updates as they become available."
Due to the increased need for N95 masks at hospitals and other institutions, we have decided to donate our remaining inventory to aid those most impacted by the COVID-19 virus. All orders placed prior to 03/21/20 will still receive masks in their kits however all orders going forward will no longer have this item included.